← Back to guides
Using Modulaser with Pen Plotters
Pen plotters (like the AxiDraw) are amazing. But creating content for them is usually either extremely limited or super complex. Well, now there's Modulaser.
Modulaser is an abstract line-art generator, originally created for laser shows, but used by many graphic artists.
With Modulaser you don't ever have to code again. To create amazing line visuals, simply dial in some frequencies. Animate them with the twist of a knob. Finally record the animated visual to a drawing.
Getting started
To get stared, we highly recommend downloading our pen plotter example file:
Download Pen Plotter examples
Or check out our Snowflake Pack
Click on the clips on the top of the app to explore the examples. Hold Shift while clicking to disable clip layering.
Every clip is animated. We record the animation to generate a complex visual. On the top-right, click SVG and hit Record. When you're happy with the visual (usually in about 2 seconds), click Record again top finish recording.
You can now plot the SVG using your pen plotter software (like Inkscape) of choice. For AxiDraw, check out this guide on how to do this.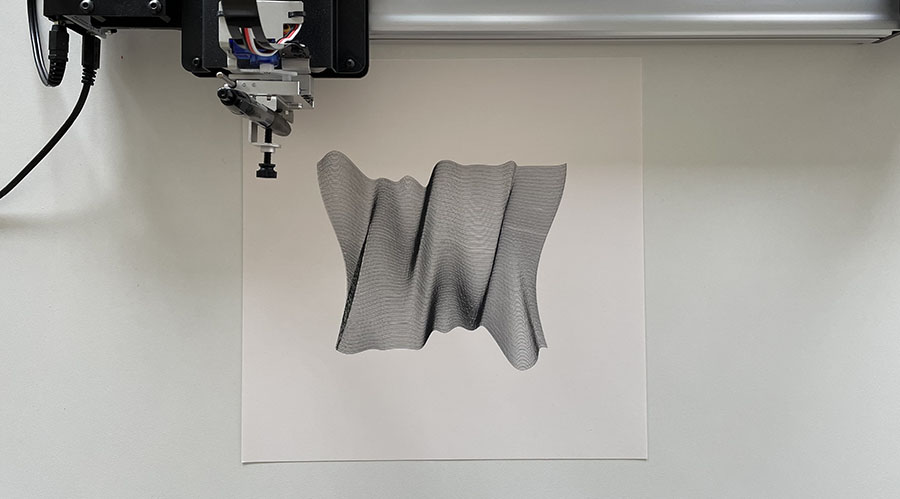 Quick tips
Here are a few tips that might help:
Always animate your visuals. Simply drag any Speed knob to introduce movement!

Use the FPS setting to determine how many frames are added to the recording.

The Modulaser preview has a black background. White lines may seem logical in Modulaser, but can be confusing on documents with a white background. Any black lines will be removed from the SVG by default. Instead, try to limit yourself to colored graphics.

In the menubar, go to Help > Tutorials to learn about the basics of creating visuals with Modulaser.

In Preferences, use the Afterglow setting to see a real-time preview of your visual before recording. Only the new lines will be recorded onto the SVG.

Some Modulaser features are primarily used for laser shows, and might confuse you if you're going for plotter art. Try to ignore these features, until you fully understand the basics.