← Back to guides
Ether Dream Laser DAC with Modulaser software
The Ether Dream is the first DAC that was ever supported by Modulaser. It's a DAC with high resolution outputs that connects via – you guessed it – ethernet!
The Ether Dream 1, 2 and 3 are supported in Modulaser.
Please note: There are currently some stability issues with using Ether Dream DACs in Modulaser. It's hard to tell when we would be able to fix this issue.
You can use your Ether Dream with Modulaser in two very different ways:
Connect to it over the LAN to output realtime abstract laser visuals.
Record ILDA-files in Modulaser, put them on the Micro SD, and play them back in Ether Dream's standalone mode.
The first way is wayyyy more fun. This allows you to do actual live laser shows. The second way is more for permanent standalone installations.
To hook your Ether Dream up to Modulaser, simply power your Ether Dream and make sure it's connected to the same network as you computer.
Now start Modulaser and select a clip. If you do not have any clips yet, go to File > Restore presets to find some we made!
Next to the "Start" button, click on the list and select "Ether Dream". Now press the start button.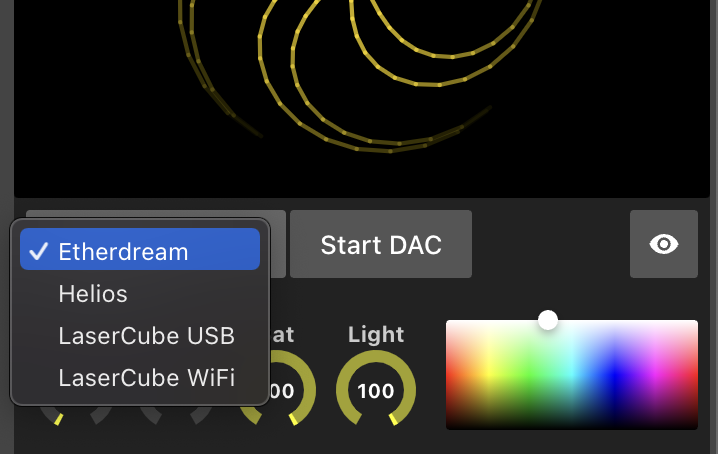 That should be it! This should work for all the Ether Dream versions there are.
If you're experiencing any problems, please try updating your firmware and using Ether Dream's diagnostic tool.